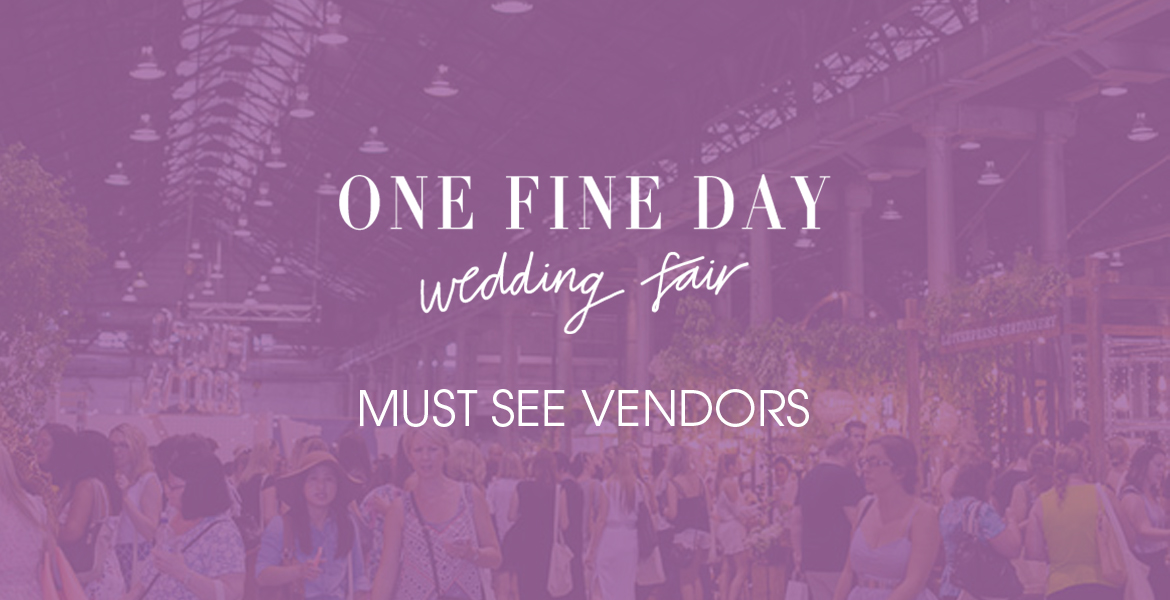 Must see vendors to visit at One Fine Day
Published on February 2, 2016 by Laura Cockman
One Fine Day is quickly approaching and Forte Catering is thrilled to be part of the line up at such a prestigious event sponsored by Hello May and Jacob's Creek. In our excitement we thought we would look through the vendor list and introduce you to some of the vendors we cannot wait to meet!
Whether you've already spent hundreds of hours planning your big day, or if you're just starting to look for inspiration, there are some basics that every wedding needs.

The Dress.
The right dress is more than just finding something that looks good. It's about finding the gown that you will marry your partner in. It is that moment when you walk down the aisle, the chatter has died to a dull murmur, the musicians strike up a chord, but you hear none of this, as the world has slowed down and you're lost in your soon-to-be husband's eyes.
Whether your style is haute courture, bohemian, or red carpet, One Fine Day has some of the best bridal designers in the industry.
@babushkaballerina
Babushka Ballerina Bridal have a way with the bohemian bride, adding an element of Paris Chic with no equal. Their gowns feature lace and intricate beading and are styled in such a way that they could be worn anywhere from a beach wedding to an ornate cathedral. Their styling is on point, featuring on the cover of both Flutter Magazine and Cottage Hill Magazine.
@suzanneharward
Suzanne Harward is a Melbourne designer who specialises in couture and haute couture gowns. Her dresses emphasize the beauty of the female figure, whilst working with the lines and flow of the fabric to create a unique and awe inspiring gown for each of her clients. Featured on the cover of White Collection Magazine and a double page spread in Bazaar Australia, you'd be kicking yourself if you miss her bridal showcase at One Fine Day.
@leahdagloria
Last, but certainly not least, Leah Da Gloria is another must visit vendor if you're in need of #dressinspo. Varying in style again, Sydney designer Leah Da Gloria's wedding collection is all glamour. Her dresses focus on curves, trains, plunging necklines and all things sexy. Featured in Bride to Be Magazine and worn by Danielle Spencer and Carrie Bickmore, Leah Da Gloria creates sexy and elegant gowns for the fabulous bride.

The Accessories.
@samanthawillsbridal
What you wear is just as important as how you wear it. Luckily, One Fine Day has got your back with Samantha Wills, the goddess of accessories! Not only are her designs clean cut and beautiful but she is also an awesome person, giving back to the community and starting up the Samantha Wills Foundation: empowering women in business.
@viktorianovak
Although jewellery is important, the veil is possibly the most iconic accessory for any bride. Despite very traditional origins – the lifting of the veil symbolized the grooms right to enter into a conjugal relationship with the bride – the veil is a key identifier of a bride. If you're looking for something a bit different and extremely fabulous, look no further than Viktoria Novak. These intricate headpieces are majestic and fit for a queen. Headpiece designer to the celebrities, Viktoria Novak has created pieces for Jennifer Hawkins, Jesinta Cambell, and Rachel Finch to name just a few. Her pieces have also been featured in countless magazines such as Vogue Brides, Modern Wedding, Luxury Weddings, Bride, Cosmopolitan Bride, and Bazaar.

The Flowers.
Flowers have been part of the wedding ceremony since Roman times, worn in the hair of the bride as a way of deterring evil spirits and thus ensuring a happy marriage. In the Victorian period, Queen Victoria chose to carry flowers and herbs, fashioning what we now know as the bridal bouquet.
@oakandlinden
Oak & Linden know the importance of the bouquet and although they probably won't set you up with the traditional roman garland of garlic and herbs, they specialise in incorporating Australian natives into their bouquets, garlands and floral decorations. Founder Melissa has a clean, simple, yet charmingly quirky design style that she brings not only to her beautiful floral arrangements, but also to her wider service as a wedding planner. Listed in Australia's top 25 wedding stylists, Oak & Linden surpass expectations, helping brides and grooms create an event that personifies who they are as a couple.
@_missadamsflorist_
Miss Adams Florist is another highly sought after florist in the wedding industry. With the unique ability to incorporate ferns, succulents, and other nontraditional wedding flora into the wedding bouquet with elegance and style, it is clear why Miss Adams is often praised for her talent in complimenting couples personality and love through floral arrangements. Based in the Dooralong Valley on the Central Coast, Miss Adams Studio is surrounded by a diverse selection of flora, which inspire her beautiful designs.

The Make-Up.
I struggle with keeping my eyeliner straight on a good day. I can only imagine what it would be like when I'm jittery with adrenaline. A hair and make-up artist (they're called artists for a reason) are a must have for any bridal party. If you're considering a make-up artist, but are worried you won't recognise yourself, fear not! The make-up artists at One Fine Day are the real deal and will have you looking like the best version of you on your special day.
@liv_lundelius
One of my personal favourites is a lady by the name of Liv Lundelius. She is truly a natural beauty expert, enhancing her clients' features to create a sensual and natural look. Using earthy tones and subtle highlighting and shading, clients are transformed into radiant beauties. Liv also has an amazing blog, filled with all the latest beauty trends and tips and reviews on her favourite products and wedding prep rituals, such as which silk nightie and robe set you should wear while getting ready.
@natalijaofficial_
Natalija is a luxury night and loungewear label, famous for their beautiful silk robes and often worn by blushing brides as they prepare for the big day. Stocked by bridal designer Suzanne Harward and the Bridal Atelier the silk nighties and robes are quickly becoming the must have item for all stylish brides.

The Invitations.
Without invitations your wedding could be quite a quiet affair.  In many ways, the invitation sets the tone for the entire wedding. The design of the invitation alludes to the size, style and budget of the wedding. Luckily, the specialty printers at D&D Letterpress know exactly how to convey class and style in a contemporary way.
@ddletterpress
D&D (Doug and Danika) Letterpress started with love and a passion for the handmade. Meeting at Sydney's College of the Arts, D&D fell in love over an obsession with old school printing methods. After travelling the world together, their passion only grew as did their business. Their designs are as unique and special as their story.

The Moments.
Your wedding is one of the biggest days of your life! Whether you want to capture the moment in high resolution, a James Cameron-esque epic, or quirky and fun photo booth memories, one thing is certain; you want a professional to get the job done. One Fine Day has an array of amazing photographers to immortalize your special day the way you want.
@socialplaygrnd
Social Playground is a funky company that provides Instagram printers for hire. "What is an Instagram printer" you ask? It's simple, you snap a photo, #tag the event you're at and the image will be printed within 20 seconds. It's a throwback to the good old Polaroid camera, but multiple devices can be used. Whether you choose to set up a photo booth, or just have your guests taking photos of their night, it's a versatile tool and a whole lot of fun.
@paper_cranes_productions
Although Instagram photos are fun to scroll through, the wedding video and photography needs to be done by a professional photographer/cinematographer and who better than the award winning Paper Cranes? With their use of DJI Phantom Drones to shoot aerial footage, stunning close ups, and attention to detail, your wedding video may be nominated for an Oscar. Seriously. What the video.
@tone_image
If you're not after the full movie experience, but rather the art exhibition, I recommend visiting T-ONE Image. Their artistic style, and clever use of lighting and angles is remarkable and the results are a brilliant mix of candid and posed images, suitable for display in a contemporary art gallery. I'm just blown away by their Instagram page.

The Music.
Music is an extremely personal thing. Choosing the right tracks and finding a band that can create both the atmosphere and sound that you're after can take a lifetime. I can't assume to know your music tastes, but The White Tree strike a chord in my heart.
@thewhitetree
The White Tree is a professional wedding band that is highly sought after all along the East Coast. They have an extensive track list and up to a nine piece band! In addition to being at One Fine Day, they're also doing a showcase at the Bourbon Hotel from 8-10pm on Wednesday 10th February.

The Cake.
You may be thinking "as long as it looks good, who cares what it tastes like?!" BUT, that piece of cake smooshed on your face by your new hubby will probably be one of the only things you remember to eat on the day. Do you really want it to taste like marzipan and fruit cake?
@sugarbeecakes
Sugar Bee Cakes is the perfect combination of elegance and deliciousness. Their cakes look so perfect that it is hard to believe they are handmade and not 3D printed. And the taste?! Oh my gosh! Whether you like vanilla sponge, red velvet or naked cakes, Sugar Bee Cakes has the answer!
@grainandco
For every wedding cake there must be a wedding cake topper. If you've been scrolling through Pinterest or flipping through bridal magazines you will have no doubt noticed the extremely chic bamboo wedding toppers than have been popping up. Grain & Co, the original bamboo cake topper and stationary company are to thank for these super trendy items. If you're looking for a personalised piece, company director Shay and graphic designer Pablo personally connect with their clients to create beautiful, high quality pieces.

The Food.
And of course, or favourite category…FOOD! What would a wedding be without exquisite food and catering?
@fortecatering
Forte cannot wait to be part of One Fine Day Sydney and meet the other talented vendors and beautiful brides to be. We are passionate about our food and are looking forward to sharing it with you. Come and visit our stall to meet our Event Managers AND your chance to win a Kitchen Tea for 15 people.
Best of luck planning your One Fine Day and I'll see you next week at the fair. Xx