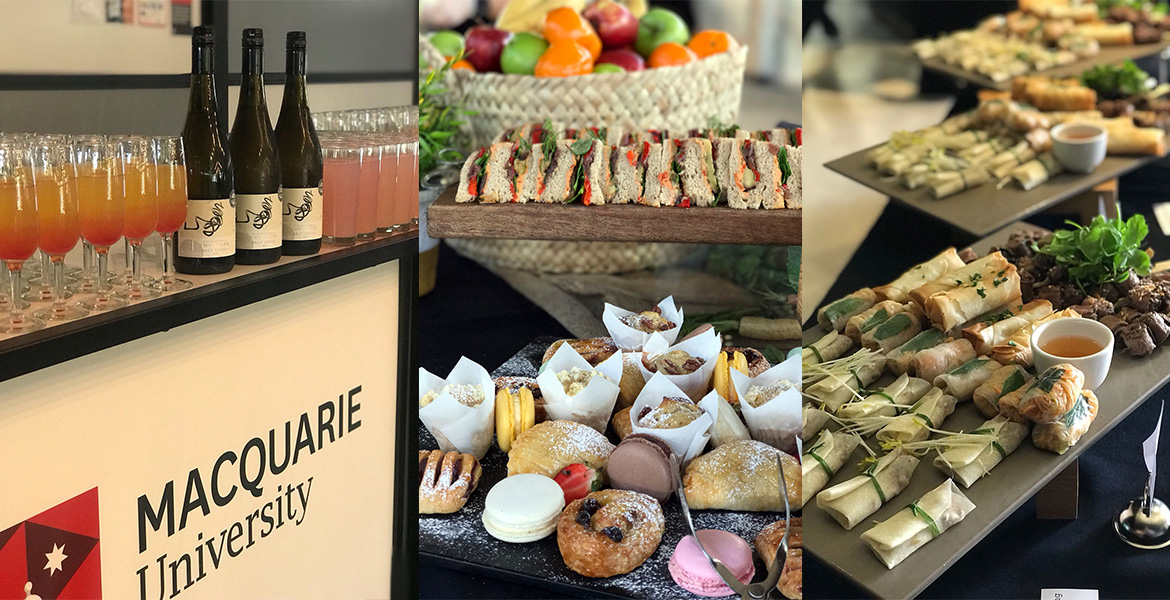 Macquarie University Graduation Catering by Forte
Published on October 29, 2018 by Teagan Spettigue
Graduations are such a momentous time in people's lives.  All of their hard work, late nights and hours upon hours of studying have finally paid off.  Walking across the stage in their cap and gown, receiving their degree, master's degree or doctorate, is a moment a student will never forget.
Here at Macquarie University, the three weeks of graduations in April and September bring an added layer of excitement and celebration as hundreds of students prepare to take what they have learned the past few years and go off into the world.  And what is the best way to aid in that celebration?  Food and drink.  That is where Forte Catering & Events comes into play.
Over the span of 11 days in April and 8 days in September we celebrated with over 25,000 students, family and friends, serving them delicious sweet and savoury canapes along with some ice-cold beverages to get the party started.  Pink cotton candy being freshly made, bright and fruity mocktails were being served, sparkling wine was flowing, mini donuts were being devoured and hot comforting pies were feeding the masses.  You could feel the excitement in the graduation marquee and our staff were so honoured to be a part of this memorable occasion.
Along with the main graduation ceremonies comes a lot of behind the scenes planning, setup and work.  Forte Events and Catering also nourished those who were working tirelessly to create these successful graduation sessions time and time again.  Everyone from alumni volunteers who were guiding guests where to go, to audio and visual staff recording and capturing these special moments to university staff who were keeping timelines and the day on track, and a musician who provided attendees with beautiful sounds were fed individual meals during the weeks of graduation.  Hard work requires sustenance and we made sure they had it.
Lastly, there were those very special students that graduated at the top of their class and had the honour of having lunch with the very important people who run Macquarie University – the Vice Chancellor and Chancellor.  We rolled out the red carpet for these individuals and their families by presenting them with a multi-coursed lunch in the Chancellery.  It is safe to say it was a lunch they will never forget!  It brought us so much joy to reward these hard-working scholars the best way we know how, with superb food and service.  Beautifully platted dishes were served over six VIP lunches and the only other thing brought back to the kitchen besides the empty plates were allocates from the Chancellor himself directed to the Chef.  What could be better?
After the last degree was handed out, it was time to clean up, break down and pack up but not before recognising the university staff that were key to the success of all graduation sessions.  A Thank You BBQ was held so staff could relax and enjoy themselves after what was a constantly moving few weeks.  They deserved it!
And last but not least were our casual staff that worked tirelessly pouring drinks, carrying canapes, dressing graduates, among other things.  Forte's own were rewarded with some good food and beverage as a thank you for their ongoing hard work and enthusiasm.
It was a massive success and we are looking forward to doing it all again and creating more yummy and delicious memories for the next wave of graduates in April next year!