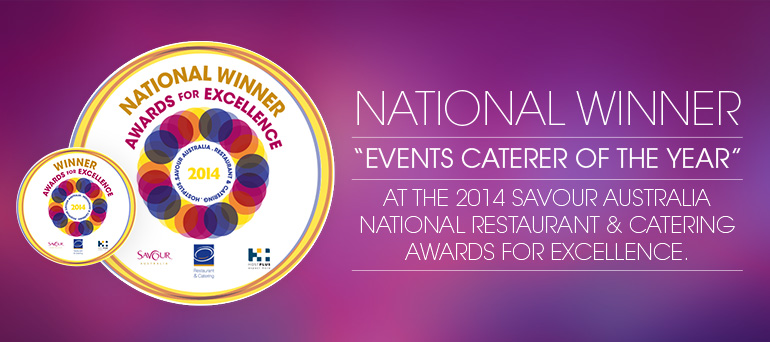 Forte are Proud to Announce Their Title as National Events Caterer of the Year
Published on October 28, 2014 by Jennifer Henson
FORTE ARE PROUD TO ANNOUNCE THEIR TITLE AS NATIONAL EVENTS CATERER OF THE YEAR!
Forte Catering & Events are proud to announce they have just received the national award for best Events Caterer at the 2014 Restaurant and Catering Awards for Excellence. This prestigious award truly recognises the team at Fortes passion and emphasis on quality at each and every event and to be recognised by our peers makes it even more special.
'I was absolutely delighted with this award as our team have been recognised by our peers for not only designing a creative menu, but for also ensuring the client achieved the memorable experience for their guests'  -Ross Mitchell, Forte Managing Director.
This award comes of the back of the recognition received for our efforts in two categories, qualifying as finalists in the Sydney & Surrounding suburbs for both Wedding Caterer and Caterer at an Event. The Forte team were awarded the 'Best Caterer at an Event' award placing them in the running for the national title.
THE FORTE DIFFERENCE
At Forte we have always prided ourselves on going the extra mile for clients and ensuring that their event is as magical as they'd hoped. This stems from our teams passion and commitment to always provide the most exquisite menus, combined with extraordinary service and advice. Their truly is no better feeling then when each customer receives their dream event, and we hope to continually provide the incredible taste sensations and breathtaking experiences that make that possible.
THE SAVOUR AUSTRALIA RESTAURANT & CATERING AWARDS FOR EXCELLENCE
The annual Savour Australia Restaurant & Catering HOSTPLUS awards for excellence are the leading authoritative guide on Restaurant and catering excellence. With the awards program aimed at rewarding businesses that excel within the industry by proving them with the deserved recognition and promotion of their efforts.
This year marks the 16th year of the Awards for Excellence program with the National event hosting a culmination of winners from 8 previous events held throughout Australia. With over 1500 businesses entering in the 2014 program, the highly respected industry awards truly set a national benchmark for excellence. Through the program businesses are critically assessed by professional judges for the chance to be a finalist or winner of one or more of the 37 National categories.
THE 2014 RESTAURANT & CATERER INDUSTRY AWARDS GALA
The National Savour Australia Restaurant & Catering HOSTPLUS Awards for Excellence 2014 was held at the Peninsula, Docklands in Melbourne. The prestigious event saw 185 restaurants and 59 caterers from metropolitan and regional areas from all across Australia to be recognised for their outstanding dedication to quality and service.
THE AWARD WINNING EVENT
Forte Catering & Events were on Cockatoo Island in February, catering O'Brien Glass 'Best of Australia' Dinner. The guests arrived on the island after taking a scenic 90 minute cruise around the gorgeous harbour ready for the main event. For information regarding the event that Forte hosted to win the 'Best Caterer at an Event' Accolade read the following article FORTE AWARDED BEST CATERER AT AN EVENT FOR SYDNEY & SURROUNDING SUBURBS