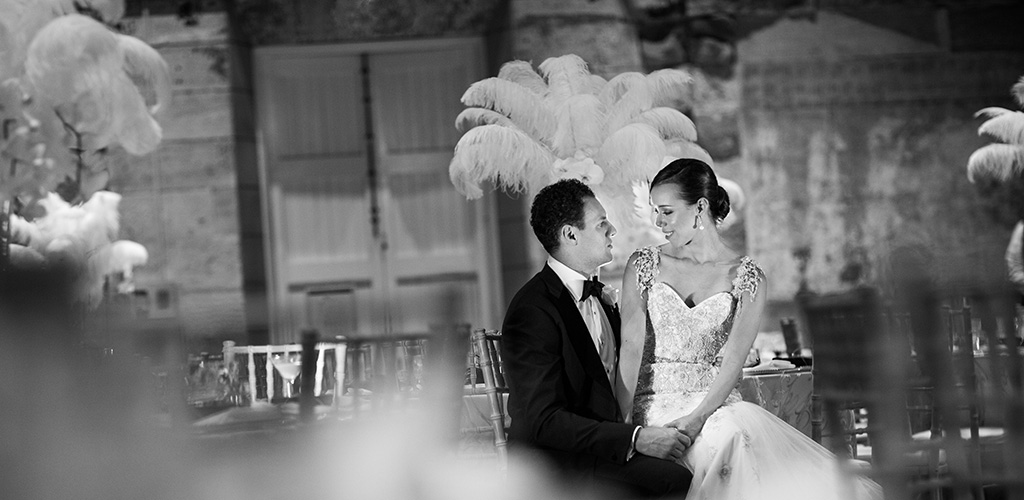 A Spectacular Great Gatsby Themed Wedding Created by Forte
Published on June 17, 2014 by Jennifer Henson
We had the great pleasure of styling and catering at Adam & Linda's Great Gatsby themed wedding. It was a stunning event held at The Cell Block Theatre in Darlinghurst, Sydney. The wedding was also featured on Easy Weddings.
The Ceremony
The touching ceremony took place in the courtyard of the Cell Block Theatre under an archway draped with pearls and flowers. Our beautiful bride was escorted along the white carpet lined with white petals, by her two brothers as the guests admired her bespoke wedding gown.

The Reception
With the help of Forte Catering & Events the couple were able to turn the venue into a portal back to the 1920's. "We didn't want to use a wedding reception venue so I searched for a venue via caterers," Linda said. "There have been a few weddings at the Cell Block but not many."
When they first came to us with their unique wedding vision we were more than happy to help! Our wedding manager Laura worked with Linda (the bride) to design the theming for the beautiful Cell Block Theatre. Transforming it into a Gatsby ball room complete with feathers, fairy lights and cut crystal glassware.


How It All Came Together
The bride thoroughly enjoyed planning her wedding day with our team. She went into extreme detail transforming the sandstone blank canvas of the venue into a memorable Gatsby themed party. The photos from the wedding relay the spectacular scenery which left us in awe once it all come together.
After the ceremony the guests enjoyed Gatsby inspired canapés including finger sandwiches, seared tuna and katifi fried king prawns while sipping French martini's.
Moving through into the dining room for the big reveal the guests were speechless while they admired the stunning decorations. Entree was soon served again with a Gatsby twist a classic prawn cocktail served in a crystal cut wine glass and a spiced lamb salad. Mains of Corn-fed chicken ballotine, sage & chestnut stuffing and for those who had the prawn entrée a smoked sea-salt crusted lamb loin, green olive & heirloom tomato tapas & asparagus.
After tear jerking speeches from our bride and groom and a hilarious best man's speech Linda & Adam took to the floor for their first dance before inviting the bridal party and then all the guests to the dance floor.
While the guests enjoyed the sounds of the Leisure Bandits the MC announced the opening of the dessert buffet, again with a Gatsby twist Forte's Executive Chef Anthony Sullivan created individual pineapple upside down cakes, shots of Belgian chocolate marquis, candy coloured macaroons & a fresh fruit salad all served on our rustic wooden ladders and planks wrapped in Ivy.
The opening of the whiskey bar was the final touch to complete this Gatsby extravaganza and finished off this beautiful evening perfectly.