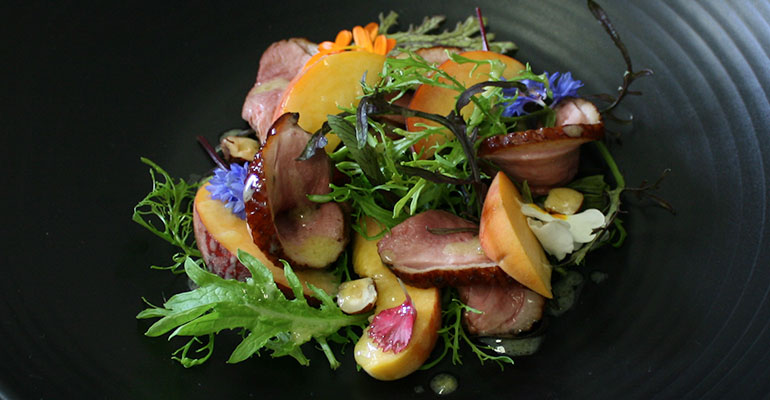 Tempt your tastebuds with our tea smoked duck recipe perfect for any occasion
Published on November 17, 2015 by Jennifer Henson
We spoke to Forte's team of chefs recently while on the hunt for the perfect summer salad that was simple to create and mouth-wateringly delicious! After a quick brainstorm and some culinary experimentation Executive Chef, Anthony Sullivan, produced this incredible Tea Smoked Duck Salad.
Tea smoking is a fantastic cooking technique that you can do within the comforts of your own kitchen. Once you've smoked this beautiful duck there will be no limit to the number of other incredible meals you can create with different teas and scents. Inspiration for this flavour combination lends its roots to the classic 'duck a l'orange' whereby the citrus of the orange provides the acidity to the richness of the duck. Anthony has transformed this traditional favourite into a contemporary and elegant seasonal salad perfect for those warmer days.
This dish is perfectly balanced drawing its spice from the Sichuan pepper corns and its sweetness from the juicy peaches, drizzled with a scrumptious vinaigrette of mandarin, sesame, honey and ginger.
Ensuring you can enjoy this salad all year round, Anthony was able to suggest some alternatives if peaches are not in season. You could substitute them with other fruits such as fresh nectarines, lightly roasted Corella pears or even a pomelo if you are lucky enough to find one!
THE RECIPE
Tea smoked duck with peaches, mustard greens, sesame citrus & honey dressing
(Serves 2 entrée portions)
SMOKING MIXTURE
Ingredients:
½ cup jasmine rice
½ cup Ceylon tea
½ cup brown sugar
1 piece of star anise
Method:
1. Mix ingredients well
2. Preheat oven to 160 degrees
SICHUAN SALT
Ingredients:
1 tablespoon of Sichuan peppercorns
1 tablespoons of sea salt flakes
Method:
1. Heat peppercorns in frying pan until they start to colour, mixing with wooden spoon so they don't catch or burn
2. Place in mortar & pestle and grind to fine powder, then add salt and mix well
TO SMOKE THE DUCK
Ingredients:
1 duck breast with skin
Smoking mixture from above
Method:
1. Place smoking mixture in wok over medium heat
2. Place the duck breast on wire rack, then into wok
3. Cover with foil and smoke for 8 minutes
4. Remove duck from wok, place in oven and cook at 160 degrees for 6-8 minutes*
5. Remove duck from oven and rest for 10 minutes, then slice thinly
*Cooking time will depend on the size of duck breast, it should be pink & juicy in the middle
SALAD
Ingredients:
1 large ripe peach, stone removed and sliced into wedges
1 handful of mustard greens (red elk, shiso, watercress or similar) washed and dried
1 handful picked butter lettuce, washed and dried
¼ bunch coriander leaf, picked and washed
A pinch of crispy fried onions (available at Asian grocery shops)
DRESSING
Ingredients:
30 ml of olive oil
1 tablespoon of sesame oil
2 tablespoons of honey
Juice of 1 mandarin or orange
2 tablespoons of Dijon mustard
2 tablespoons of white balsamic or chardonnay vinegar
1 small piece of ginger, finely grated
Sea salt & white pepper to taste
Method:
1. Place all ingredients in a bowl and whisk together
TO ASSEMBLE
Place salad leaves in a bowl and dress lightly with ½ the dressing
Place loosely on plate, then layer sliced duck & peaches across the salad
Drizzle remaining vinaigrette over the salad
Season with a light sprinkle of Sichuan sea salt
Garnish with picked coriander & crispy fried onions