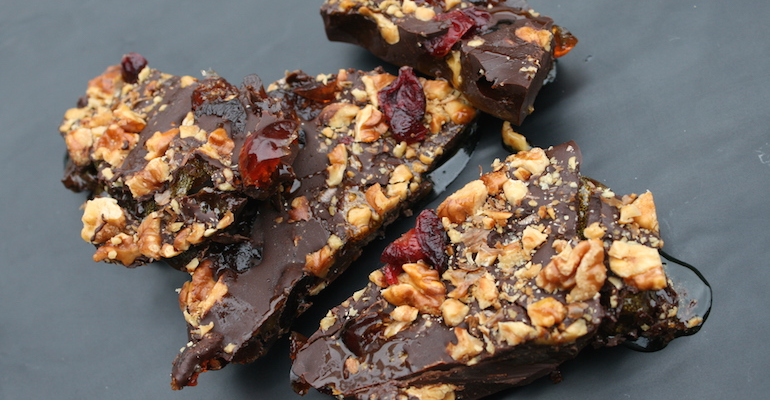 Honeycomb Crunch Recipe with Local Sydney Honey
Published on July 9, 2015 by Jennifer Henson
Forte Catering has recently been experimenting with some fantastic local Ashbury honey. So we thought what better way to get an understanding of the honey making process than to attend a bee keeping course?
In late March this year, Dan and Antonio took their fold up chairs, coffee cups and sun hats to the course hosted by guest speaker Stuart Gibb. They returned with a new appreciation of bees, a bundle of beekeeping notes & some more of that delicious local Ashbury honey.
Here is one of the recipes Dan was inspired to create….
The Recipe
Chocolate, cherry & cranberry honeycomb crunch
335gm castor sugar
180gm Ashbury honey
2 tbsp. golden syrup
2 teaspoons bi carb soda
280gm dark chocolate
50gm dried cranberries
50gm glace cherries
100gm lightly toasted walnuts
The Method:
Using baking paper, line an approximately 30cm square baking tin
Place sugar, honey, golden syrup and 75 ml of water into a saucepan over medium heat and stir until dissolved. Then, turn up heat and cook until it becomes a golden caramel colour.
Once golden, take the pan off the heat and stir in the bi carb soda. Wait until the mixture is bubbling and then pour into lined baking tin.
Allow mixture to cool & harden.
In a separate bowl, melt chocolate over a water bath on gentle heat.
When completely melted, add nuts, cherries and cranberries and pour over the set honeycomb.
Give the mixture 20-30 minutes to set, placing in fridge if needed.
When set, remove from tin and cut into pieces – or go rustic style and break it up into chunks and eat!