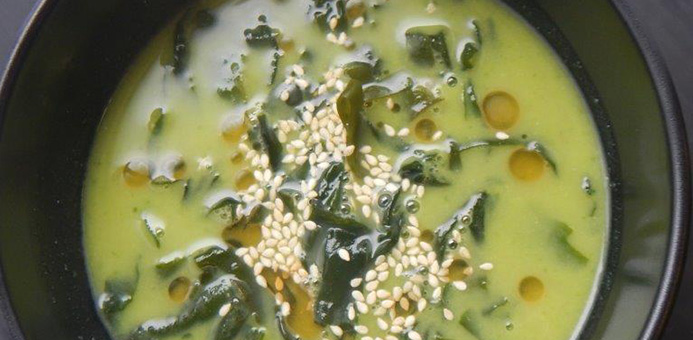 A Heart Warming Soup Recipe for Winter Weather
Published on July 22, 2014 by Jennifer Henson
Forte's Executive Chef, Anthony Sullivan has done it again with his heart warming winter soup recipe; Green Pea & White Miso Soup. This recipe is great for cold weather, rainy days or if you're feeling a little under the weather.
Be sure to share photos of your Green Pea & White Miso Soup on our Facebook page if you decide to try it out!


Green Pea & White Miso Soup
Ingredients
1 leek, chopped, washed
1 tablespoon vegetable oil
2 potatoes, peeled & diced
600gm green peas (frozen are fine)
2 tablespoons white miso paste
1200ml good chicken stock (veg stock is fine if you wish)
100gm soft tofu
Small handful wakame or similar dried Japanese seaweed – (soaked in water until soft)
Toasted sesame seeds – pinch
Sesame oil – dash
Method
Heat the oil in large saucepan, then add leek & cook gently until soft, about 2 minutes
Add potatoes & cook for 1 – 2 minutes
Add chicken stock bring to boil, simmer gently for 15-20 minutes or until potatoes are cooked
Add miso paste, then peas & cook for 2-3 minutes until peas are soft
Remove from stove & place in blender on high until completely smooth
Pass soup through a fine sieve
Pour soup into bowls
Garnish each with some wakame, a few drops of sesame oil & the toasted sesame seeds
"Happy Cooking." – Anthony Sullivan, Executive Chef, Forte Catering & Events.